GCh. Ch. Fair Isle Love Me Do
Sire: AM GChP. CAN. Ch. Hollyhunt Not By Chance
Dam: AM GCh CAN Ch Fair Isle No Worries JH
Whelped January 26, 2018 
DNA Profile #V865534
HEALTH CLEARANCES 
CHIC: 183733
HIPS: EXCELLENT GSE-5502E31M-VPI
ELBOWS: NORMAL GSE-EL1057M31-VPI
EYES: NORMAL GSE-EYE271/14M-VPI
PRA rcd4: CLEAR BY PARENTAGE GSCC-P4-511/15M-PI-BP
DENTITION: COMPLETE GSE-DE52/6M-PI
 DNA Repository: GSE-DNA-635/S
Dewey was the puppy who caught everyone's eye and my heart and stayed here @ Fair Isle. At his first weekend of shows, the back-to-back GSCA MidAtlantic specialties in September 2018 he was Reserve Winners Dog at both specialties. The wins were awarded by respected sporting authorities Sam Houston McDonald and Michael Faulkner. 
The following weekend Dewey traveled to Connecticut to compete @ the TarTan AM & PM specialties. At the AM specialty he was BISweeps under Gordon Setter breeder Suzanne Montgomery. At the PM specialty he was BOSSweeps under Gordon Setter breeder Ellen Jones and Winners Dog under judge Gloria Kerr.
After a few months break from the show ring, Dewey competed in the Winter Garden Specialties in Rye, NY where he was Winners Dog / Best of Winners under Irish Setter breeder/judge Nena Dee on Friday and the was BOS in Puppy Sweeps to his sister Martha under Gordon Setter breeder Denise Clauser.
Another 7 months pass and Dewey is back in the ring for our local specialties. Winners Dog at the Saturday specialty under Canadian judge David Swartwood.
The National was up next for our boy and as the youngest in the Open Dog class he placed 3rd behind the Winners and Reserve Winners with some lovely comments from judge Richard Powell, noting that he only lacked maturity.
We would wait until Feb for Dewey to once again return to the ring in his quest for his Champion title. At the first day of the Winter Garden Specialties in Rye Brook, NY; Dewey would be awarded Best of Winners (and Winners Dog) for a 4 point major at the TarTan GSC Specialty under judge Douglas McFarlane to complete his title. We would move him up to BOB competition on Saturday and Sunday. On Saturday, judge Marissa Clark gave Dewey one of only two Awards of Merit at the GSCA specialty! We are so proud of our young boy. 
Now he's back home and will be getting all his health clearances sorted out while he matures before he sees the show ring again. 
In 2022 Dewey has made his return to the show ring as a "special" and started off with a BANG! His first cluster of shows in Tallahassee, FL resulted in 2 Group wins! To say we're excited about his career is an understatement. Looking forward to seeing what he can accomplish. 
He finished up the year as the #2 Gordon Setter (all-breed) and #11 (breed) with multiple group wins and placements. At the AKC National Championship in Orlando, FL he was awarded BOB against some lovely competition under setter specialist judge Mr. Sam Houston McDonald.
Dewey started off 2023 with a great weekend in Minnesota earning his first specialty BOB, first all-breed Best in Show and Reserve Best In Show (in the same weekend), 2 Group 1's and a Group 3. We are looking forward to his campaign this year. 
SHOW HIGHLIGHTS
2018 GSCA/MidAtlantic-1 Reserve Winners Dog
2018 GSCA/MidAtlantic-2 Reserve Winners Dog
2018 TarTan GSC-1 Best in Puppy Sweeps
2018 TarTan GSC-2 BOS in Puppy Sweeps
2018 TarTan GSC-2 Winners Dog
2019 Winter Garden Specialties/TarTan Best of Winners 
2019 Winter Garden Specialties/GSCA 1 BOS in Puppy Sweeps
2019 GSCA/MidAtlantic-1 Winners Dog
2020 Winter Garden Specialties/TarTan - Best of Winners
2020 Winter Garden Specialties/GSCA - Judges Award of Merit
2023 North Country GSC of MN - Best of Breed
2023 Greater Gainesville DFA 1 - Best in Show
2023 Greater Gainesville DFA 2 - Reserve Best In Show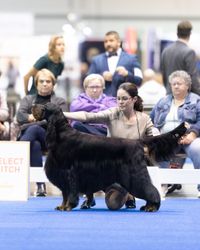 Aust Ch Latchmere Navajo Joe

Aust Ch Kqrac Kirrie Krista

Aust Ch Triseter Ebonie Dude

Aust Ch Triseter Ebonie Belle

Aust Triseter Ebonie Page

Aust Ch Tahtan Blac Magic

Aust Triseter Ebonie Page

Aust Ch Triseter Ebonie Dude

Aust Ch Latchmere Navajo Joe

Aust Ch Kqrac Kirrie Krista