Triseter Celtic Yahtzee Of Brodruggan JH (AI import Australia)
Whelped January 17, 2019
Sire: Am Aust NZ Ch Sutherland Hallmark
Dam: Aust Ch Triseter Celtic Quest
Bred by Triseter Kennels, Romsey, VIC, Australia
Owned by Colleen O'Brien & Esther Joseph
DNA #V891690
OFA Hip GSE-5549G24F-VPI (Good)
OFA Eye GSE-EYE279/6F-VPI (Normal)
OFA PRA rcd4 GSE-P4-522/6F-PI (Normal/Clear)
OFA Cerebellar Degeneration GSE-CBD69/5F-PI (Normal/Clear)
OFA Dentition GSE-DE54/6F-VPI Full Dentition
OFA Elbow evaluation; Right elbow NORMAL; Left elbow GRADE 1 (DJD)
Yahtzee arrived in the US in May of 2019. One of a litter of six, sired by almost 40 year old frozen semen from Am Aust & NZ Ch Sutherland Hallmark who was born in California in 1973. 
Shown sparingly as a puppy and a few times after an unforeseen break in dog shows due to Covid-19; we decided it was a good time to send Yahtzee to our field trainer Janie Bristow to see what she could do in the field. Training is going very well and we expect to see her participating in AKC Hunt Tests very soon.
Yahtzee went off for field training with Janie Bristow in early September. Catching on quickly Yahtzee was entered a a 4 test weekend in Virginia the first weekend in October and qualified at each test. Janie said Yahtzee got better and better every time she ran! So now she can add Junior Hunter to her name! We're very excited about her potential and look forward to her returning to the field in the future for more advanced work.
In late summer 2022, I was scheduled to have surgery and it seemed like a good time to have Yahtzee go to my handlers in Florida to have one less dog to worry about @ home and also be where she needed to be in case she came in heat as I have been planning to breed her to Dewey (who was already in Florida). Yahtzee was able to go to a few shows in Orlando, FL at the end of the show year and earned a few more points towards her CH title. We brought Yahtzee home with us from Orlando and are now awaiting confirmation of her pregnancy. Hoping for puppies towards the end of January 2023. 
ACCOMPLISHMENTS
BISweeps MidAtlantic 2019
Junior Hunter title completed Oct 4, 2020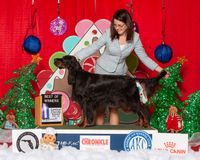 Am Aust & NZ Ch Sutherland Hallmark

Am CH Sutherland Dunnideer Waltz

Am CH Afternod Kyle Of Sutherland

Aust CH Triseter Celtic Quest

Aust Sup CH Triseter Celtic Jai

Ludstar Whatagirl (Imp ITA)

Aust GCH Triseter Celtic Beela

Aust Sup CH Drumdaroch Beamers Run (AI)

Aust Triseter Ebonie Page