BISS Am Grand Champion Can Champion Fair Isle No Worries, J.H.
"Ida"
[Sire: Aust/Am GCh Triseter Ebonie Zeus Dam: Fair Isle Sweet Spot]
AKC DNA: V666911
Whelped: March 13, 2012
Breeder: Colleen O'Brien
Owner: Colleen O'Brien

Our newest addition from the long awaiting breeding of Zeus & Clare, Ida has made it so worth the wait! We are looking forward to Ida's return to the ring to complete her Champion title. And at some point she will return to the field for the last two qualifying scores she needs for her Junior Hunter title. 

2015 - Ida is now a CHAMPION. Returning to the ring in Spring 2015, she was Winners Bitch at the Greater Atlanta Specialty and Best of Winners at the MidWest Specialty before heading to our National at Purina Farms (MO) where she won the Open Bitch class. At the Regional Specialty the following day she was Best of Winners to finish her Champion title with her 4th specialty win! We are so proud of her and all she has accomplished. 

2016 - Ida was bred to the exciting young Nirvana x Winnie son, Gavin (GCH Hollyhunt Not By Chance) and her litter arrived on May 10, 2016. Gavin has clearances on hips/elbows/eyes. He is clear of PRA rcd4. 

2016 - In September Ida returned to train with Janie Bristow (Stormwynd Kennels) to complete her first hunting title. It wasn't long before Janie had her ready to go and she completed the last two passing scores she needed on October 15 & 16 @ the Schyulkill Valley GSP Club tests in Weatherly, PA. This makes Ida the 10th of my Gordon's (either bred or owned) to earn a Junior Hunter title.   
2017 - Ida returned to the ring in September in pursuit of her Grand Champion title. She started off with a bang her debut weekend @ the Blue Mountain Cluster in Macungie, PA. These shows included back-to-back Gordon specialties and on Saturday, Ida won BOS at the first MidAtlantic Specialty and on Sunday was BISS at the 2nd specialty! 
2017 - Ida has completed the requirements for her AKC Grand Championship! After a string of shows where there was no other competition (and therefore no points available), we finally had two weekends of shows where there were points and Ida didn't disappoint with one 5 point major Select and then sweeping the breed in Springfield, Mass. over Thanksgiving weekend, earning two more 4 point majors! 
2018 - We were so happy with the first litter, we decided to repeat the breeding for Ida's second litter. Gavin is now a Silver Grand Champion, multiplie specialty winner and a group winner. We welcomed 8 beautiful babies (7M, 1F) on January 26th. 
2019 - Ida returns to the show ring as a VETERAN! Ida traveled to specialties in Minnesota, Michigan and then up to Canada to earn her Canadian Championship in 4 shows over the SD&G weekend in Long Sault, Ontario in August. Then local MidAtlantic specialties in Sept where she won both Veteran Sweepstakes and BOS @ the Sunday specialty. Then headed to the 2019 National at Purina Farms in St Louis where she won her Veteran Sweeps class, was 3rd in the regular Veterans class and 3rd in Brood Bitch. 
 
2022 - we lost Ida suddenly on 10/21 and our hearts were broken at her passing. 

Health Clearances
CHIC #97998
OFA PRA rcd4 - GSE-P4-148/2F-VPI (PRA clear)
OFA Cerebellar Degeneration: GSE-CBD19/14F-VPI (CD Clear)
OFA Eye: GSE-EYE34/84F-VPI (Normal)
OFA Cardiac: GSE-CA76/16F/C-VPI (Cardiac Normal)
OFA Dentition Database: GSE-DE12/16F-VPI (Full Dentition)
OFA Hips: GSE-5095G25F-VPI (Good)
OFA Elbow: GSE-EL762F25-VPI (Normal) 
CHIC DNA: GSE-DNA-442/B

Accomplishments
RWB GSCA MidAtlantic Specialty1 Sept 2012
Best Puppy in Regular Classes Nodrog Specialty1 Sept 2012
WB GSCA Meadowlands Specialty1 Feb 2013
BOSSweeps: GSCA MidWest 2013
2 Junior Hunter legs in Feb 2014
RWB GSCA MidAtlantic Specialty2 Sept 2014
WB GSCA Greater Atlanta Specialty2 Apr 2015
BW GSCA Mid West1 May 2015
1st Place Open Bitch GSCA National Specialty May 2015
BW GSCA Regional May 2015 (the day after the National Specialty)
BOS GSCA MidAtlantic Specialty1 Sept 2017
BOB GSCA MidAtlantic Specialty2 Sept 2017
BOS North Country Gordon Setter Club of Minnesota - June 2019
Best Veteran Group 2 Michigan Sporting Dog Assoc - July 2019
Best Veteran Nodrog Gordon Setter Club of Michigan - July 2019
WB Gordon Setter Club of Canada Regional Specialty - Aug 2019
BW/WB OVASA - Aug 2019
Select GSCA MidAtlantic Specialty1 Sept 2019 
BOS GSCA MidAtlantic Specialty2 Sept 2019
Best In Veteran Sweeps @ both MidAtlantic Specialties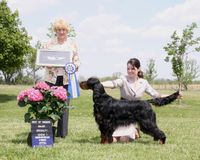 Aust Ch Tahtan Blac Magic

Aust GCh Tahtan Black Agnes

Aust Triseter Ebonie Page

Aust Ch Triseter Ebonie Dude

Aust Ch Rokeena Black Thor

Aust/NZ Ch Triseter Ebonie Innika

Aust Ch Latchmere Navajo Joe

Am/Aust Ch Rockaplentys Quest for Roses

Aust Ch Triseter Black Miranda

Aust Ch Kqrac Kirrie Krista

Aust Ch Glade Famos Warrior

Ch Black Anvil Out N About CD JH